Included at the end of this weight-loss blog post is a short video about how to use the law of attraction to lose weight.
I have not blogged about my weight loss since February 16
th
. I started my regimen on Feb 3. When I looked back this morning and noticed I have not gotten out of the 50's in 3 months, now at 152. My ego started in on me, "
You are a failure Tanya, you so should have been at your goal weight by now!"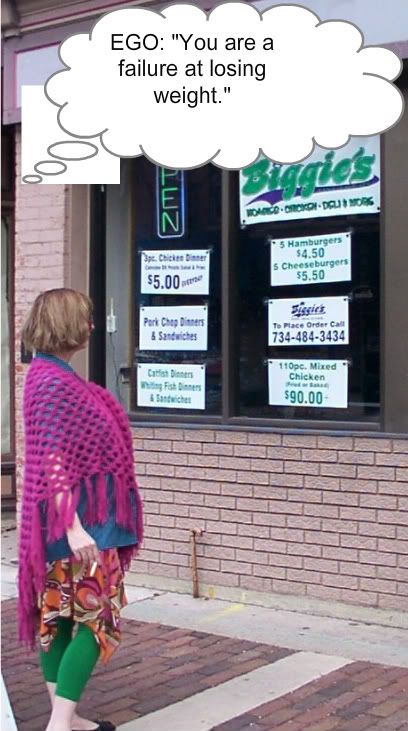 For a hot second I started to feel emotional vibes attached to this personal comment to myself.
But you know what? I told ego: "Bleep off EGO! I'm doing great; I haven't gained back any weight these past three months. This proves to me that I can maintain my weight and continue to lose more." I turned these negative thoughts and feelings about my weight-loss goals into a positive! Furthermore, I looked in the mirror and saw a beautiful girl in front of me; I studied my profile and proclaimed, "Dam, you're a hottie girlfriend, curves and ALL!"
Even though I may not be losing the weight as fast as my ego would like, I am losing at tremendous speed the negative thoughts and feelings about my body image. I am not covering up my flab as much, instead I am dressing myself up just to go to the grocery store and on a walk with my princess. I'm wearing skirts and heels. One day last week I was walking down town Ypsilanti on Michigan Ave and two fellows enjoying the sunny afternoon on their motorcycles smiled and waved at me. I did something I normally don't do; I acknowledged them and smiled back.
So, my wee number of readers the point here is that YOU are doing great, and as long as you continue to feel good about your body right now in the present moment, you are attracting more weight loss by connecting to a positive universal vibration. Unlike when in our past, when we hated to look at ourselves in the mirror, and dreaded getting dressed up in fear of exposing our flab to the world- hence attracting higher numbers on the scale and much, much more negative feelings along with those high numbers.
If you are on the weight loss band wagon along with me, my advice is to "let go" baby. Use positive action to align and attract positive vibration into your life, by doing what makes you feel good. Focus less on the end result, leave what others say you must do OUT, and love yourself just the way you are right now. Instead of "working out"…. "Fun Out!" If it feels good, do it. If it makes you feel bad about yourself, STOP!" What worked in the past may not work now because you have changed.
So, for today your task is to explore new ways of feeling good about yourself.
For me, I feel good when I am hula hooping. I feel great dancing at the local bar. I feel fantastic taking a walk in the woods observing nature! I sure stay off the scale, and will only get on it when I feel a high vibration connecting me to our awesome Universe.
So you hot thang you, comment and let us all in on what makes YOU feel good as you continue to go from flab to fab, or what ever your personal goals may be! For me, I am losing weight and out of debt!